Maple Strawberry Slushy
Posted by JAKEMAN'S MAPLE PRODUCTS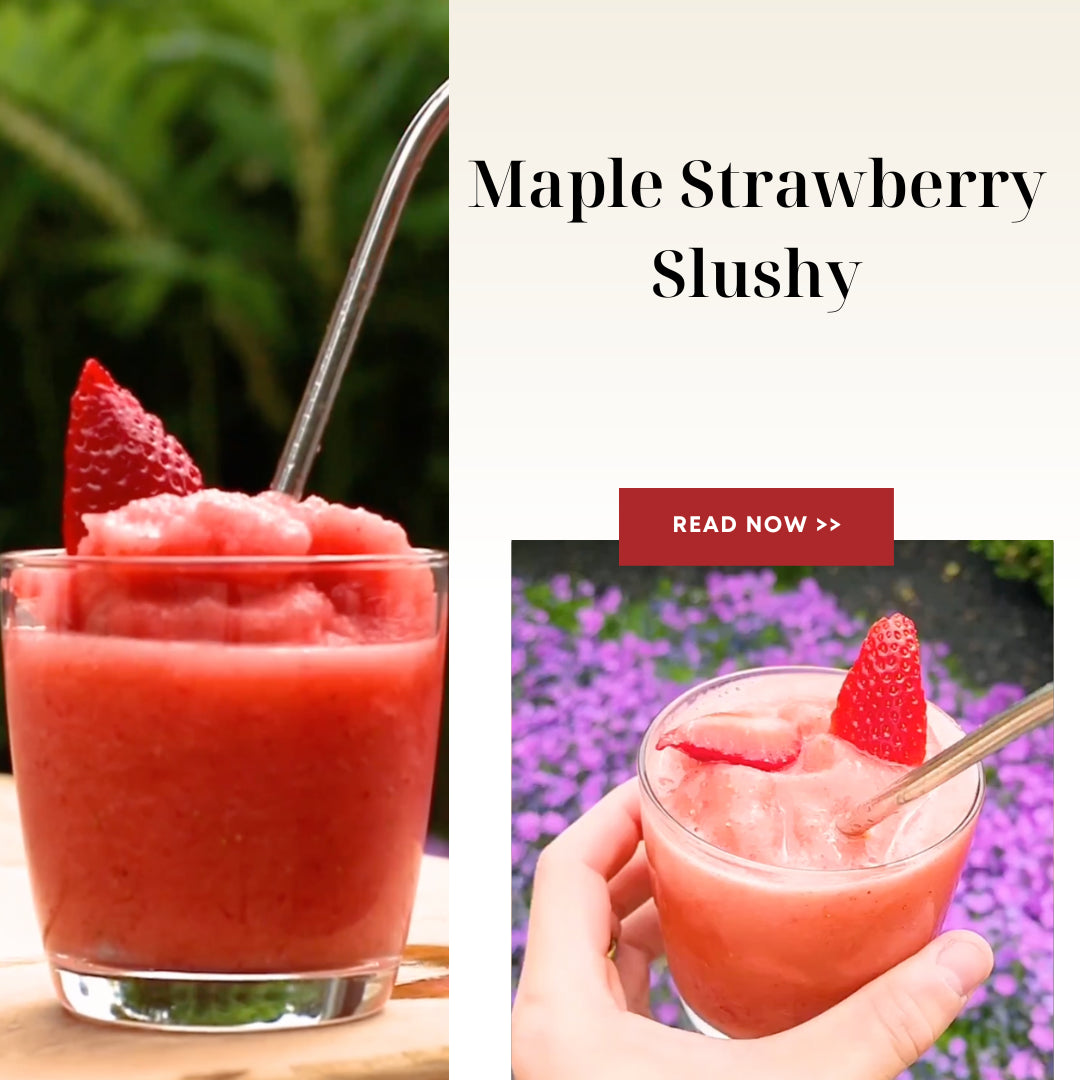 Hey, friends! Are you ready for a refreshing treat that will transport you straight to summertime bliss? We've got just the recipe for you today!
There's nothing quite like the combination of sweet strawberries and the rich, natural sweetness of Jakeman's Maple Syrup. Together, they create a delightful symphony of flavors that will have your taste buds dancing with joy.
Here's what you'll need:
1 cup orange juice
1/2 cup Jakeman's Maple Syrup
12 strawberries, washed and hulled
1 generous handful of ice cubes
*Adjust amounts to your liking and add more ice for a thicker slushy.
Now, it's time to bring all these delicious ingredients together. Simply toss them into a blender and blend until smooth. The vibrant color and enticing aroma will instantly make you feel like you're sipping on sunshine.
Pour your Maple Strawberry Slushy into a glass, and if you're feeling fancy, garnish it with a fresh strawberry. Take a moment to appreciate the beautiful hues and the anticipation of the sweet and tangy flavors that await you.
But wait, there's more! For those looking to add an extra twist to their slushy, feel free to incorporate your favorite vodka or rum. It's the perfect way to elevate this delightful treat and add a touch of grown-up indulgence.
Now, find a cozy spot in your backyard or patio, bask in the warmth of the sun, and take that first sip. Close your eyes and let the coolness of the slushy wash over you. Taste the sweetness of the strawberries mingling with the natural goodness of Jakeman's Maple Syrup. It's a symphony of flavors that captures the essence of summer in every sip.
So, whether you're hosting a backyard barbecue, lounging by the pool, or simply craving a refreshing drink on a sunny day, our Maple Strawberry Slushy is the perfect companion. It's a delightful blend of summer sweetness that will keep you coming back for more.
Go ahead, grab those ingredients, fire up the blender, and let the magic of summer unfold in your glass. Cheers to indulging in the sweetness of summer with our Maple Strawberry Slushy!
Collection 2019
Sale 70% Off
Title for image