Three maple syrup recipes for Christmas
Posted by JAKEMAN'S MAPLE PRODUCTS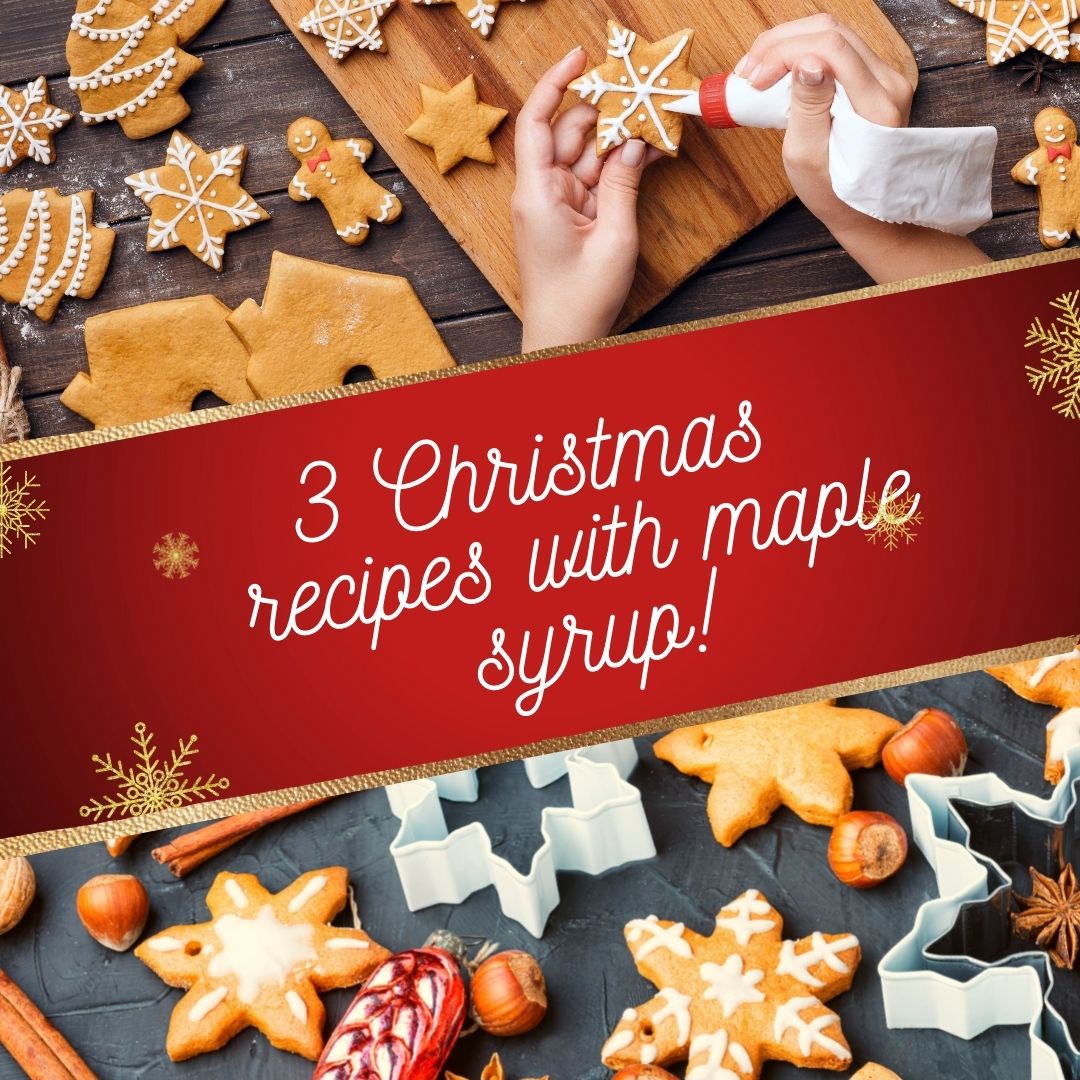 Holidays are coming! It is the time of year when families spend time together. If you want to surprise your loved ones with new recipes, we come to your aid with some ideas, more exactly, three maple syrup recipes!
Why choose maple syrup for your recipes?
Maple syrup is a natural sweetener that is very delicious and healthy! It is super rich in various nutrients:
- Zinc
- Magnesium
- Potassium
- Calcium
We have been producing maple syrup since 1876.  With such a long history in making maple products, we feel we've become experts at providing the highest quality maple syrup.   We're proud to make them available on our online store.  
Recipe 1: Christmas Tree Biscuits with Maple Syrup
What can be more representative for Christmas than Christmas Tree Biscuits? This is a very easy dessert that doesn't take so much time to prepare! And your family will love them! 
Ingredients:
-450 g flour
- 2 tsp baking powder
- 2 tsp ground cinnamon
- 200 g sugar
- 250 g unsalted butter
- 4 tsp maple syrup
- 1 egg
Method
These steps are very easy and if you follow them exactly, you will have the best Christmas Biscuits!
1) Bring the butter and maple syrup to room temperature. In a bowl, mix the flour with the baking powder and cinnamon. Once all ingredients have been thoroughly mixed, add a pinch of salt.
2) Next up add sugar and butter. For a better mix of flavors, we recommend that you cut the butter into small cubes. This will help you mix the ingredients more easily.
3) In another bowl mix the maple syrup and the egg.
4) Bring the resulting composition to the first bowl and start kneading. This step will help the composition take on a solid, ball-shaped, form.
5) Next, refrigerate for 30 minutes. During this time, you can preheat the oven to 180 degrees, place a baking sheet on the tray and choose the cake tins.
6)  After 30 minutes, take the dough out of the fridge and cut it into 4 equal parts. This way it will be much easier for you to model it. Now all you have to do is roll out the dough and cut it in festive forms! Bake them for 10-15 minutes.
7)  The final step is to decorate them!
With this recipe, you can create which kind of biscuits you want! Maybe you want to have tree biscuits or stars. Let your creativity flow and involve the kids in the process!
Recipe 2: Maple Cream Cheese Frosting
This recipe is ideal for people who love a sweet and intense flavor! You can prepare this recipe in only 15 minutes! The secret ingredient in this recipe is maple syrup. It gives it a wonderful aroma and a unique color! This cream can be used to decorate muffins, cakes, and even the biscuits shown in the previous recipe!
Ingredients:
- 8 tsp unsalted butter
- 8 tsp cream cheese
- 4 cups powdered sugar
- ½ vanilla extract
- 2 tsp maple syrup
Method:
1) Mix the butter and cream cheese. It is better to take the ingredients out of the fridge 30 minutes before starting the recipe. Mix the composition until you get a soft, light cream. It should take about 4 minutes
2) Add the powder sugar, vanilla extract, and maple syrup. Mix all the ingredients for 5 minutes.
3) Let the final composition stay in the fridge for one hour. After that, you can use the cream to decorate your biscuits or cupcakes!
Recipe 3: Scrolls with maple, pecan, and cinnamon
These scrolls are so crunchy and sweet! They work great with tea, coffee, or a glass of wine. We highly recommend trying this!
Ingredients:
- 1 cup of milk
- 250 ml natural apple juice
- 2 tsp maple syrup
- 2 tsp vegetable oil
- 60 gr butter
- 7 grams of dry yeast
- 800 gr of bread flour (if you don't have, you can use simple flour)
- 2 tsp cinnamon
- 1 egg
Method:
1) Bring the milk close to a boil and then add the maple syrup. Stir gently until the maple syrup dissolves in the milk. You can add oil and butter.
2) In a large bowl, mix the yeast and the apple juice. Then add flour, cinnamon, and a pinch of salt. Mix all the ingredients very well and slowly add the milk combined with the maple syrup to the bowl.
3) Cover the resulting composition and leave it in a warm place for about 45 minutes.
4) Grease the dough with a small amount of oil. After this step, let the dough rest for another hour at room temperature.
5) Place the dough on a flat surface and bring it to a rectangular shape. Then add cinnamon and walnuts on its entire surface.
6) Roll the dough and cut it into slices.
7) Preheat the oven to 180 and introduce the rolls. They should be done in 20-25 minutes.
You can use the Maple Cream Cheese Frosting to decorate them!
We hope that these recipes have come to your aid and you have already decided which one you can prepare for Christmas! If you are looking for maple syrup, you will find a wide range in our store.
For 5 generations our family has produced the finest, 100% pure maple syrup. Carefully sourced from our close-knit community of over 200 local maple farmers and refined at our facility in Beachville Ontario.
Collection 2019
Sale 70% Off
Title for image