Best Maple Desserts
Posted by JAKEMAN'S MAPLE PRODUCTS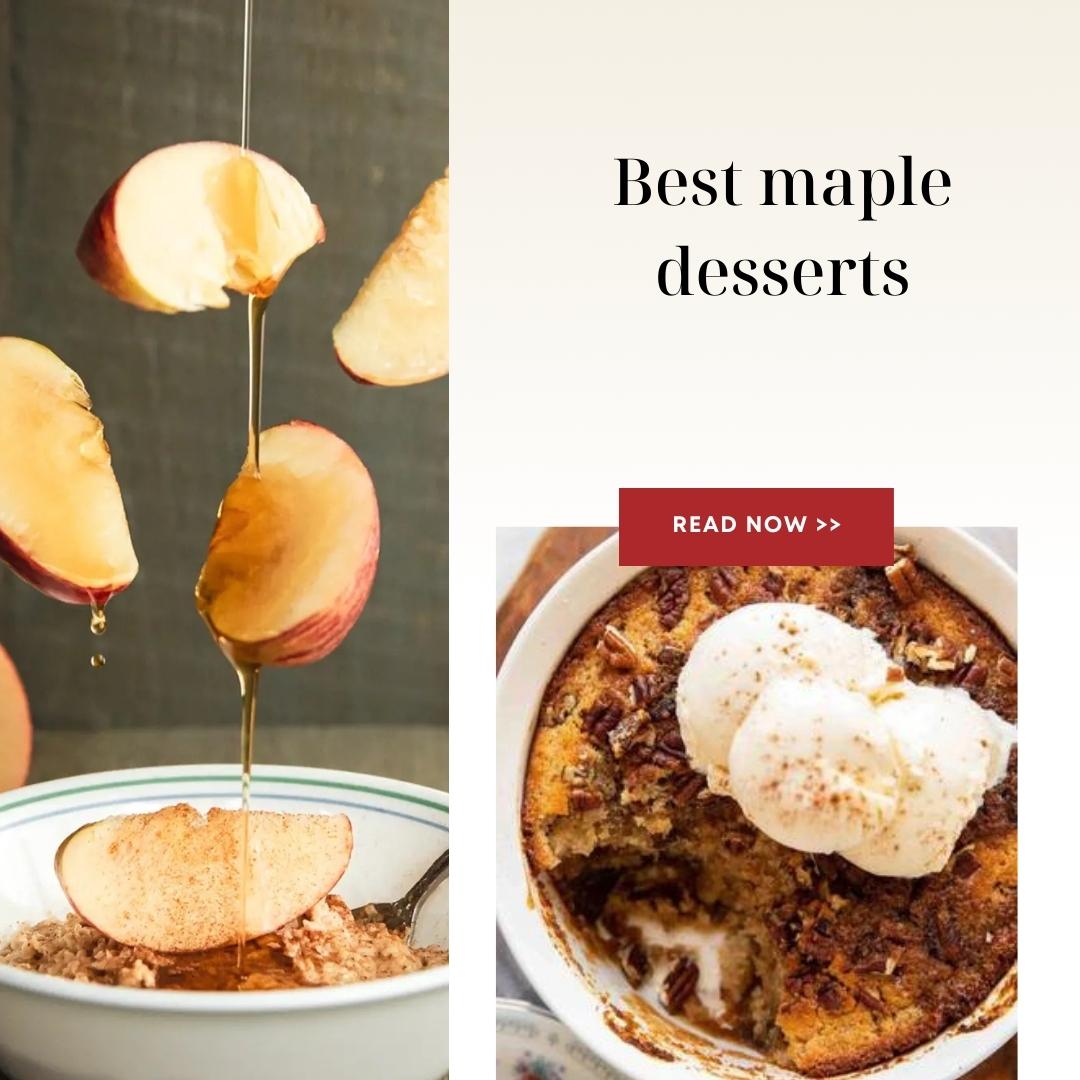 It's not a secret that maple syrup makes the perfect choice for your dessert! The incredible taste of pure maple syrup will transform your simple desserts into something different that will be loved by the entire family. So, it's a must-try!  
Recipe 1: Maple Brown Cookies
These cookies are among our favorites! They have crunchy edges and are rich in maple syrup flavor! The great part is that they are very easy to prepare and these sugar cookies have just the right balance of crunchy and chewy.
Ingredients:
- ½ tsp baking soda
- ½ tsp salt
- ½ cup butter
- 1 ½  maple sugar
- 1 egg
- 1 tsp vanilla extract
- Pecans 
Method:
- Mix the dry ingredients together in a bowl
- Mix the butter and maple sugar together
- In a different bowl, you must add the egg, pure maple syrup, and vanilla extract
- Combine all the ingredients
- Add the pecans (you can use how many pecans you want)
- After you mix all the ingredients together, you will have cookie dough. Let it chill for 3-4 hours.
- Roll cookie dough into balls, you can use a spoon to have the right size.
- Now, the final step is to bake the cookies. It usually takes 15 minutes for them to be ready, but check them before taking them out of the oven
Recipe 2: Maple Pudding Cake
This recipe is definitely a Canadian classic and the best way to prepare this recipe is with pure Canadian maple syrup! It takes only 40 minutes to make this incredible recipe and the taste is so amazing! 
Ingredients:
The ingredients for maple pudding cake fall into two categories. The ones for the cake and the ones for the cream.
Cake:
- 6 oz butter, at room temperature
- 1 cup granulated sugar
- 2 large eggs
- 1/2 tsp vanilla
- 1 3/4 cups all-purpose flour
- 1 tsp baking powder
Cream: 
- 1 1/2 cups maple syrup
- 1 1/2 cups heavy whipping cream, 35%
Method:
There are only a few steps you need to follow in order to prepare the best maple pudding cake! It only takes 20 minutes to prepare the recipe and 20 minutes to cook it!
Cake:
For the first step, you will need a hand mixer and a bowl. Put the butter and sugar together and mix until smooth. Very important, the butter needs to be at room temperature. Add the eggs
- In a different bowl mix the flour and baking powder
- Mix the flour with the butter and sugar until it is completely combined. You will obtain a dough. Let it stay in the fridge for a minimum of 6 hours.
Cream:
- In a medium saucepan, bring the maple syrup and heavy cream to a boil. Turn off heat, add salt, and set aside to cool.
Final result:
- Cover an oven tray with baking paper and add the cake filling. Be careful, it will rise in volume so use a high tray.
- Pour the cream over the dough and bake for 20-25 minutes. 
You will definitely love these recipes! They are highly valued in the culinary field! For their preparation, we recommend trying our pure maple syrup. Jakeman's award-winning, pure, Ontario maple syrup is made with love and care and we pride ourselves in delivering 100% Canadian maple syrup! The secret ingredient for your sweet recipes.

For more recipes, follow our Instagram account @jakemansmapleproducts! Every Tuesday we add new content in the recipes section so it's a must-do to follow us!
Collection 2019
Sale 70% Off
Title for image