Maple Glazed Salmon
Posted by JAKEMAN'S MAPLE PRODUCTS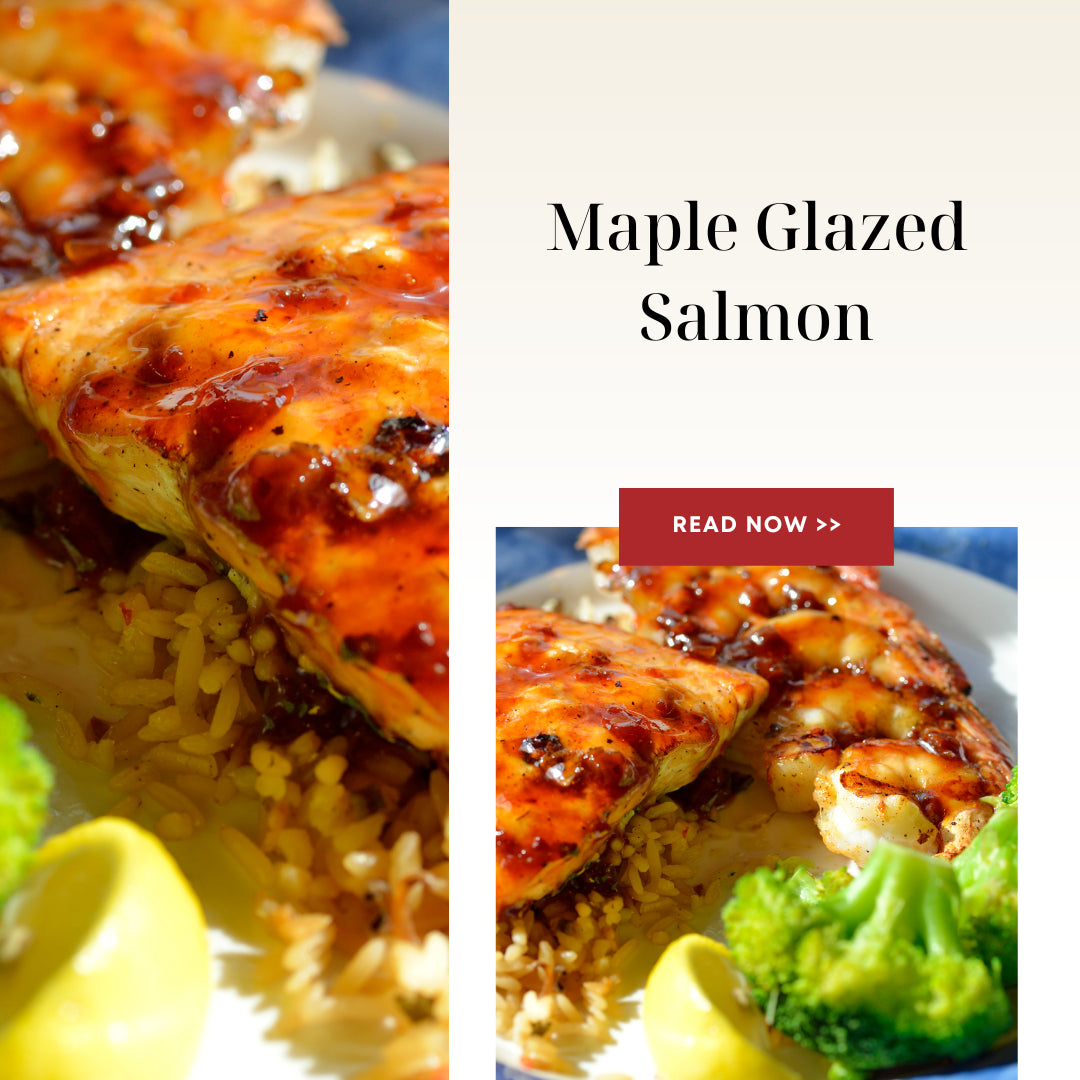 Maple syrup is a delicious and versatile sweetener that can be used in a variety of recipes. Whether you're looking to make pancakes, waffles, or even salad dressing, pure maple syrup is the perfect ingredient to add a touch of natural sweetness to your dishes. In this blog post, we'll be sharing a recipe for Maple Glazed Salmon that is sure to be a hit with your family and friends.
Ingredients:
- 4 salmon fillets
- 1/4 cup maple syrup
- 2 tablespoons soy sauce
- 2 cloves of garlic, minced
- 1/4 teaspoon black pepper
- 2 tablespoons vegetable oil
Method:
- In a small bowl, mix together the maple syrup, soy sauce, garlic, and black pepper.
- Heat the vegetable oil in a large skillet over medium-high heat.
- Place the salmon fillets in the skillet and spoon the maple glaze over the top of the salmon.
- Cook the salmon for 4-5 minutes per side, or until it is cooked through and flaky.
- Serve the salmon with the remaining maple glaze spooned over the top.
This recipe is not only delicious but also healthy, as salmon is a great source of omega-3 fatty acids. The maple glaze adds just the right amount of sweetness without overwhelming the natural flavor of the salmon. This recipe can be easily modified to fit your taste, you can add herbs or spices to the glaze, or serve with a side of vegetables.
Maple syrup can be a great substitute for refined sugar in many recipes, it is a natural sweetener and has a unique flavor that enhances the taste of the dishes it is used in. Not only does it add flavor, but it also provides nutritional benefits as it contains antioxidants, minerals, and vitamins.
In conclusion, pure maple syrup is a great ingredient to have in your kitchen and it can be used in many different recipes. Try this Maple Glazed Salmon recipe, and you'll see how delicious and easy it is to use pure maple syrup in your cooking. And don't be afraid to experiment with different recipes to find your favorite way to use maple syrup.
Collection 2019
Sale 70% Off
Title for image